When most people think of the saucer chair, they associate it with something for kids.  The fact is, a saucer chair for adults is great as well, for the same reasons that make the children's models so popular.  These chairs are sometimes referred to as papasan chairs, moon chairs, or even sphere chairs, but the design is essentially the same.
What makes saucer chairs for adults different than those for kids?  The design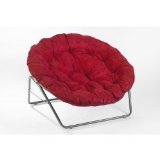 is pretty much the same, but the frame of the chairs is a lot stronger, since it needs to handle much more weight.  Kids' chairs can hold between 80 and 100 pounds, while adult saucer chairs have a weight limit of 250 pounds usually.  Frames are most often constructed out of steel, although a wicker framed chair can be found if you look around.
Most adults might have noticed saucer chairs, but haven't had the opportunity to try one out.  What makes them so comfortable is the support that they give the back, neck, and head.   When all of these are supported, your body's muscles can truly relax and rest.  This isn't the case with a normal chair, since your neck muscles are constantly in use keeping your head upright.  The better adult saucer chairs have thick, padded cushions that offer the ultimate in comfort.
Where to Put a Saucer Chair
There are two different styles of saucer chairs for adults, and they differ a bit in their versatility.  One type folds flat easily and packs into a bag to take with you in the car easily.  The other kind is meant to stay in one place and isn't so portable.  If you are looking for a chair that you can easily tote around to the park or the campground, I would definitely choose the portable kind.  While they might not come with great padded cushions like the home models, they are still soft and comfy.  Besides, they are still way, way more comfortable than nearly all of the other camp chairs available.
On the other hand, if you are going to only use your saucer chair at home, it is smart to choose one with lots of padding, preferably with a removable cushion.  This type can't be taken on the road as easily, but it will be an attractive and comfortable chair.
When choosing a saucer chair for your home, consider the color and style so it will fit in well with your existing furniture.  If you are putting it in the living room, the most popular colors are black, brown, and red, since these colors tend to match most other décor.  If the saucer chair is for your bedroom, you can probably get away with something a bit brighter, such as a purple or blue saucer chair.
Adult Saucer Chair Prices
One of the greatest things about these adult saucer chairs is the price.  If you just want something simple and easy to fold up and take with you, you only need to pay about $40.  These do cost a little more than those camp-chairs that you see everywhere, but they are completely different and more comfortable.  You can't really take a nap in a camp chair without ending up with a sore back.  A saucer chair is great for a nap, since it keeps you off the ground.  For something a bit more comfortable and stylish, expect to pay between $80 and $140 or so.  In my opinion, this is still a great deal considering most other home furniture costs more than this and isn't even as comfortable!

Although saucer chairs that are meant for the outdoors are great, sometimes people are looking for something a bit more special.  If you like the look and comfort of a round chair, a wicker chair with a similar design is a great idea.  While the usual moon chairs are pretty common, those made out of wicker are a bit tougher to find.  Fortunately, we have found a few of them for you.  The chairs featured below are virtually the only wicker papasan chairs that you are likely to find, since they are not very common at all.  They are hand made of natural fibers using quality materials and craftsmanship, which means that your chair will both look great and be very comfortable to relax in.

The next option is the Trully Outdoor Wicker Swing Chair. This chair is a work of art in itself, and although it takes up a lot of room, will look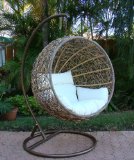 fantastic on your patio or in the backyard.  What makes this wicker saucer chair unique is that although it has the same shape as the other chairs, it is suspended from a chain and swings freely in the air.  It comes with a very sturdy base and chain, so there is very little risk of falling.  An added benefit is that you will be able to gently rock, which as anyone who has spent some time in a hammock knows is a great feeling.
The manufacturer of this chair actually makes two different models.  The first one is round and the other one is shaped like a tear drop.  Both are very similar, and your choice will depend on which style you like.  As far as comfort goes, these chairs can be as hard or as soft as you want them to be.  If you live in a very hot climate, wicker furniture has the advantage of letting air flow through.  Some people actually like the feeling of a firm chair, and a wicker moon chair with no cushion on it would suit them just fine.  In cooler places, getting a cushion and a pillow for your chair is a great idea.  Pretty much any large round cushion or a few normal sized pillows will do the trick.
The above mentioned swinging wicker chairs retail for around $400, which seems like a lot of money but is cheap compared to other chairs like it.  Take

the Urban Balance Cove Hanging Chair for example.  Also called an outback chair, it is pretty similar to the Trully chairs, but has a tighter weave.  The difference is that it doesn't come with a base to hang it from, which means that you will have to hang it from something yourself.  Some people want to hang their chair from a tree or the support beam on the porch.  Be aware that you can get the Trully chair and not even use the base.  You can take the chair itself and hang it by its chain wherever you want.  As for price, this outback chair gives you 5 free pillows, but with a price tag of around $1,500 it definitely isn't inexpensive.  Take a look at this cool chair here.
When it comes to choosing a little chair for a kid to sit on, the saucer chair is definitely among the best.  There are a number of reasons why these kids saucer chairs are a great choice.  First, the way they are designed makes them very comfortable.  Their back, neck, and head have full support, which makes them ideal for reading a book, watching cartoons, or simply taking a nap.
The second reason why saucer chairs for kids are a wise choice is because they are very good value.  While most of the chairs are decorated with great logos from companies like Disney, Pixar, and other famous TV characters, they are priced surprisingly inexpensive.  You can get most of these kids' saucer chairs for around $25.  This is about what you would pay for any other type of kids' chair, except saucer chairs have cool designs and are much more comfy.
Saucer Chair Safety
Some people wonder if saucer chairs for kids are safe enough for their little one to sit in.  While adult versions are very safe, there are differences when it comes to kids chairs.  Actually, it isn't the chair itself that causes problems.  The issue is that children tend to squirm a lot and climb around on things, and a saucer chair can tip over.  That said, they aren't really any more unstable than any other type of chair, and the fact that saucer chairs sit so low on the ground means that even if they fall over, they are just inches above the ground.
Another question people sometimes ask is how old should a child be before they can sit in a seat like this.  Most saucer chair manufacturers recommend them for children who are 2 years old and over.  As far as weight goes, the small chairs have a weight limit of 80 pounds.  There are some other chairs, such as the WWF saucer chair has a weight limit of 150 pounds, as does the Star Wars saucer chair.
The Most Popular Kids Saucer Chairs
While it isn't very hard to find a saucer chair that a 2 year old child will love, the older ones can be a bit pickier.  If you are wondering which one you should choose, here is a tip.  If your kid is watching cartoons or movies, chances are he or she will love one of characters.  Here are the most popular saucer chairs for girls:
Dora Saucer Chair
Disney Fairies Tinkerbell Saucer Chair
Disney Princess Saucer Chair
As for the boys, there are some really cool designs for them as well.  The three most popular saucer chairs for boys are:
Disney's Cars Saucer Chair
Pirates Saucer Chair
Go, Diego Saucer Chair
When it comes to having a place to relax and read a book, watch TV, or even take a nap, saucer chairs are definitely
among the best.  What makes these chairs so comfy?  The reason is because they provide support for your entire back, neck, and head.  Another great thing about saucer chairs is that there are models made specifically for kids, teens, and adults.  One important thing that you need to remember is that it is vital to get a chair that is the right size for whoever is going to use it.  The cool and inexpensive saucer chairs for kids are great for the little ones, but they will break if adults sit in them.  The better quality saucer chairs for adults have lots of padding and are more comfortable than their cheaper counterparts.
One of the best features of the saucer chair is their fold-up versatility:  Most saucer chairs can fold up flat, which means that you can either store them easily in the closet when not in use or pack them in the car to bring with you.  They are great for camping, picnics, and sporting events.  You might have heard a different name for these chairs, as they are also known as moon chairs or sphere chairs.  Despite having different names, they are all the same. Let's take a look at the different types of saucer chairs that are available.
Click on Any of the Chairs Below to Buy

Saucer Chairs for Adults
While a large percentage of saucer chairs are made for kids, there are definitely some great options available for adults as well.  The adult saucer chairs don't come with pictures of princesses on them like the kids ones either.  They tend to be solid colors that are meant to look nice in your living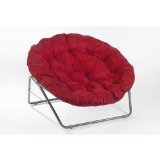 room or bedroom.  The most common colors are black, red, brown, blue, and green.  There is a lot of variation in terms of quality for these adult chairs.  While you can get inexpensive models for around fifty dollars, these ones aren't the most comfortable.  Sure, they will work fine, but if you are willing to spend around $100 or so, you can get what is called a Papasan Chair, which is basically the same thing.  What makes the Papasan Chair so good is that it has an extra thick cushion on it that comes right off.  The cushion has a lot more padding in it, which makes it pretty tough to resist falling asleep once you settle in!
If you just want to get an adult saucer chair to take with you on the road, the basic ones are great.  While most people use those collapsible camp chairs, saucer chairs are a lot better for taking a nap in because you can really recline in them.  You can't do this in a camp chair.  Cabelas makes a camouflage saucer chair with a built in pillow meant for outdoor use.
Saucer Chairs for Teens
A teen saucer chair is pretty much the same as one meant for adults, though there are some differences.  The difference is that most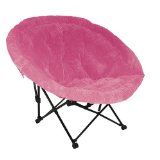 teens prefer brighter colors than adults do, since they usually aren't so concerned about matching furniture in their rooms.  For this reason, a red, pink or purple saucer chair would be a good choice for a girl, and a blue or green one would work great in a boys' room.  Of course, you can always go with black if your kids are into the darker colors.  Since teenagers are masters of slouching and relaxing after a tough day at school, saucer chairs are perfect for just kicking back and watching a movie or playing video games.  The good thing about getting one of these teen saucer chairs is that they are inexpensive enough to use for a few years and replace when they look too tattered.
Kids Saucer Chairs
When it comes to cool designs and comfy chairs, saucer chairs for kids are pretty great indeed.  These little seats are wonderful for children because it gives them a place of their own to relax in.  They are absolutely perfect outdoors at things like baseball or soccer games or picnics, since they give the little ones a place off the ground to take a nap. The manufacturers of these chairs say that they will work for kids who are over 2 years old.  Based on my experience with them, you will need to keep an eye on your kid when they are this young, since the chair can fall over if they stand up in it. Apart from the comfort, for the same low price of a plain mini saucer chair, you can get one that has a design on it that your child will love.  These are mostly based on popular cartoons and kids' movies.
Pretty much all of these kids chairs can hold weights up to 80 pounds, although some of them can hold 100.  Be sure to check the weight limit when you buy yours if your child is heavier than this.  If this is the case, you will probably have to go with an adult size chair instead, as the kids ones are meant for toddlers.
Here are some of the most popular saucer chairs for kids:
Saucer Chairs for Girls
Disney Saucer Chair – comes in a few designs including the Disney Princesses and Disney Fairies
Tinkerbell Saucer Chair
High School Musical Saucer Chair – Larger and suited for older girls
Dora Saucer Chair
Bratz Saucer Chair
The most popular ones for the little girls are definitely the Disney princess designs or the Disney Fairies.  These characters are pretty much universal these days, and any girl will love seeing them on their chair.  After the Disney characters, the Dora saucer chair is a great choice as well.
Saucer Chairs for Boys
Disney Cars Saucer Chair
Diego Saucer Chair – Dora's friend
Shrek Saucer Chair
Pirates Saucer Chair
WWE Wrestling Saucer Chair
Star Wars Saucer Chair

For the little boys that are 2 years and older, they will love the Diego or Cars saucer chair.  If they are a little older, the Pirates, Shrek, or WWE wrestling Chairs are great, depending on what they are interested in.  The Star Wars chair is a little bit bigger and can handle the weight of an older kid or light adult.  Be sure to visit our Saucer Chair Shop for more information.
While there are a lot of saucer chairs to choose from, some of the most popular ones come from Disney.  It is no wonder why Disney saucer chairs are so popular – they have been the favorite characters of kids and adults for decades, and this still holds true today.  Although kids have lots of choices these days when it comes to cartoons, Disney still manages to dominate, continuing to crank out new cartoon movies that kids love and also making sure that nobody ever forgets about their flagship characters like Snow White, Cinderella, and Mickey Mouse.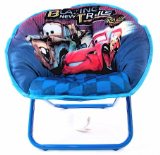 Many boys really love this chair, since it is blue and has the cars from the movie they love.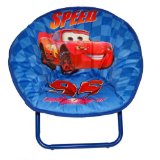 The Disney Cars Saucer Chairs hold the top 2 spots for boys.  I think it has to do with how much kids like vehicles and things like that.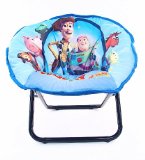 Woody and the rest of the gang are still loved by many boys.  Toy Story saucer chairs are sure to please any toddler.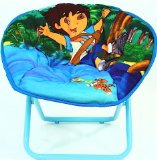 For the little guys, Diego is a big hit.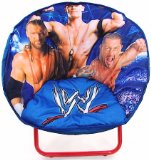 While this saucer chair definitely isn't from Disney, older children will like it if they are into wrestling.  One good thing about the wrestling saucer chairs is that they are a bit bigger than the other kids ones.


3 of the most popular Disney Princesses are on this saucer chair for girls.

The Disney Fairies hold the second spot in the girl's category.  This one has different fairies on it.  Best to let your little girl choose which ones she likes.

I know, this one isn't from Disney, but the little girls really love anything with Dora on it, and Dora saucer chairs are no exception.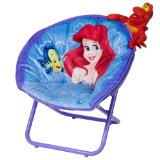 It has been years since The Little Mermaid came out, but children still love Ariel, thanks to her popular tv show.
If you are thinking of getting one of these saucer chairs for boys, here is a guide to help you choose the best one.  You will need to consider a few things before you make a decision.  The first thing you should know is that some of them are very small and meant for kids that are between 2 and 5 years old and weigh less than 80 pounds.  If your little boy is older or heavier than this, you should get him a larger one with a larger weight limit.  The small ones cost between $19 and $30, and the larger ones cost a little bit more than that.
When looking online, make sure you check the dimensions of the chair.  Some of them look the same as others in the picture, but they are in fact a little larger or smaller.  The smallest ones seem to be around 18 inches, and they get bigger from there.  If your little boy is older than 4 years, I would recommend getting a larger one.  There are 21 and 24 inch saucer chairs for kids and even bigger ones for teens and adults.
Here are the most popular boys saucer chairs, along with their weight limits.
Disney Cars Saucer Chair
:  This one is phenomenally popular with little boys, both the little toddlers and the older ones.  There are a few different styles with Lightning McQueen and his pals on it, and the sizes range from 18 inches to 21 inches.
WWE Wrestling Saucer Chair
If your kid is into wrestling, this is the perfect thing for him to rest in when he isn't bouncing around practicing his moves!  This chair is made for larger kids, with a 24 inch diameter and a weight limit of 150 pounds.  This is a great choice for a older, heavier boy since it can handle nearly twice the weight as the smaller chairs.
Diego Saucer Chair
:  Features Dora's pal Diego swinging from a tree.  This saucer chair is a couple of inches larger than the smallest ones, and it has a weight limit of 100 pounds.
Pirates Saucer Chair
:  Lots of little boys love this saucer chair, with its designs of the movie Pirates of the Caribbean on it.  This chair doesn't say the weight limit, but with a size of 20 inches, it should be about 100 pounds.
Shrek Saucer Chair :  Although the movies are a few years old now, the Shrek characters are still amazingly popular with children.  The Shrek chair is colorful and bright, and has a diameter of 20 inches.  Although it doesn't say the weight limit, the size suggests that it is around 100 pounds.